14 April 2018. Leamington to Douglas - Isle of Man
Created 23-Apr-18
Modified 23-Apr-18
12 April 2018 - Andrew Varah Infinity Evening.
Created 23-Apr-18
Modified 23-Apr-18
13 April 2018. 3 Castle Class locos at Tyseley Locomotive Works
Created 22-Apr-18
Modified 22-Apr-18
Isle of Man
Created 21-Apr-18
Modified 21-Apr-18
12 April 2018. A misty day on the River Thames
Created 13-Apr-18
Modified 13-Apr-18
10 April 2018. A Wellesbourne visit with XM655
Created 11-Apr-18
Modified 11-Apr-18
30 March 2018. North Gloucestershire Railway - Toddington
Created 31-Mar-18
Modified 31-Mar-18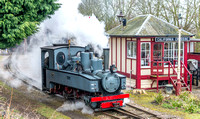 30 March 2018. Return to Broadway
Created 30-Mar-18
Modified 30-Mar-18
8 July 2017. BBC Filming at Wellesbourne for the RAF Centenary
Created 25-Mar-18
Modified 25-Mar-18
22 March 2018. 80072 on the Severn Valley - Matt Fielding Photo Charter
Created 24-Mar-18
Modified 24-Mar-18
ARCHIVES. 14 April 2006. A visit to the G&WR
Created 18-Mar-18
Modified 18-Mar-18
17 March 2018. SVR "Spring?" Steam Gala???
Created 18-Mar-18
Modified 18-Mar-18
13 March 2018. Holden B12 no 8572 Photo Charter II
Created 14-Mar-18
Modified 14-Mar-18
13 March 2018. Photo Charter "Out-Takes"
Created 14-Mar-18
Modified 14-Mar-18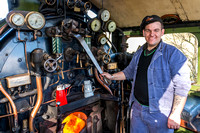 13 March 2018. Holden B12 no 8572 Photo Charter I
Created 14-Mar-18
Modified 14-Mar-18
10 March 2018. Long Marston Motorail Logistics Depot
Created 12-Mar-18
Modified 12-Mar-18
10 March 2018. The 2018 Season Begins on the G&WR
Created 12-Mar-18
Modified 12-Mar-18
10 March 2018. Broadway - Here We Come
Created 12-Mar-18
Modified 12-Mar-18
10 March 2018. Lord Snooty & his Pals Go Riding
Created 11-Mar-18
Modified 11-Mar-18
3 March 2018. Claverdon to Kidderminster & back - In the snow
Created 4-Mar-18
Modified 4-Mar-18